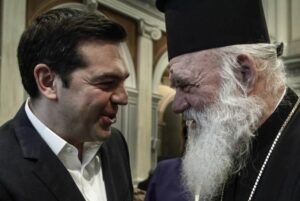 On Tuesday, October 30th, at a meeting of the Syriza party parliamentary group where they discussed the government's proposal for a constitutional revision, Greek Prime Minister Alexis Tsipras specifically addressed the issue of church-state relations.
"I think the State, the political world and the Church, the citizens and the faithful, all have today enough maturity, wisdom, and sensitivity to accept the rationalization of their relations," he declared.
The Prime Minister also said that in this regard, he believed "there was a broad consensus to move to a new era in relations between the State and the Church," because, he added, neither the Church nor the State wants to be stuck in an institutional setting that creates confusion about their limits and their roles.
"The time has come for the religious neutrality of the Hellenic State to be explicitly included in the Constitution, with all the implications in implementation and practice," he said, stressing the certainty that "the Church will agree with this explicit statement, as they also want, according to their words, a clear outline of their relations with the State. This will be a significant step towards the modernization and liberalization of the Constitution.
The Prime Minister also mentioned that the necessary separation of roles in the State and the Church is not just a constitutional issue, but also a legal and regulatory entanglement that does not change overnight. "On the contrary, it presupposes a dialogue with respect and sincerity. It presupposes goodwill and long-term common work," he added.
The Prime Minister reassured the leadership of the Church: "We are moving towards this dialogue with this very spirit". "Besides, Archbishop Ieronymos assured me of the same thing. We are united by mutual respect, and I believe our dialogue has been maturing enough these past three years to know what is needed and beneficial, both for the Church and for the State."
Source in Greek (with picture)