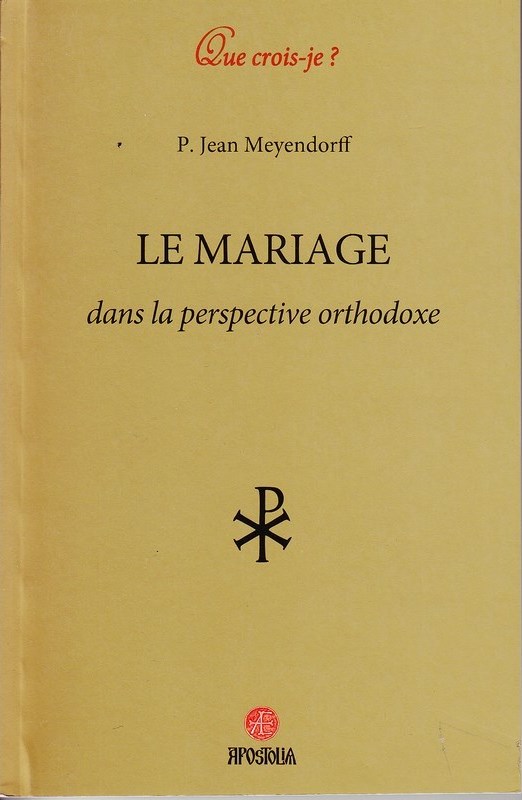 In May 2018, the program Orthodoxie on France-Culture Radio was on the theme of Marriage from an Orthodox Perspective.
Please find here the translation (part 1) of the transcript of the podcast.
This is the first of two programs entitled "Marriage: An Orthodox Perspective", a book by Father John Meyendorff written in English and published in 1975 by Saint Vladimir Press. I was translated into French, published by YMCA Press in 1986 is reissued in 2017 by Apostalia. It is a study on the theological meaning of Christian marriage, accompanied by a series of patristic, canonical, and liturgical texts.
Before talking about the content of this book, let's present in a few words the life and work of Father John Meyendorff, one of the greatest Orthodox theologians of the twentieth century.
John Meyendorff was born in France in Neuilly-sur-Seine in 1926, from parents of Germanic origin who belonged to the Russian nobility. He studied in Paris, literature at the Sorbonne and theology at the St. Sergius Orthodox Theological Institute, where he was taught by most of the great representatives of Russian theological thought of the time. He was ordained a priest in 1959, then with a great erudition and a true theological research, Meyendorff presented his doctoral thesis at the Sorbonne on the work and theology of Saint Gregory Palamas, thus contributing significantly to the renewal of the studies on this great Byzantine theologian of the 14th century. Meyendorff taught at the St. Sergius Institute before leaving for the United States, invited by Father Alexander Schmemann. He taught at the Saint Vladimir Institute in New York, where he was also the dean. He left a considerable work in the fields of dogmatic theology, the history of the Church. He was also a very committed precursor in the dialogue with Western Christians, and a true witness of Christ as a pastor and a celebrant. Father John died in 1992 in Montreal at the age of 66. Many of his books were written or translated into French from the English. As examples, we mention here his major syntheses on Orthodox dogmatics, Christ in Eastern Christian Thought and Introduction to Byzantine Theology, as well as his study on Gregory Palamas entitled Saint Gregory Palamas and Orthodox Spirituality.
This program is devoted to Father John Meyendorff's book on marriage in the Orthodox perspective. I will read a few excerpts of it, followed by comments on marriage made by Father John himself. Indeed, thanks to the valuable archives of our program found recently, we were able to hear Father John Meyendorff's voice, when he gave an interview to my predecessor at this microphone Father Stéphane, currently the Metropolitan of Estonia, and the producer of Orthodoxy for several years.
The main idea of ​​this book on marriage recurs constantly in the words of Father John. It is the connection between marriage and the Eucharist, which gives it a sacramental dimension that goes beyond the limits of earthly life and its needs. Thus marriage is set in the perspective of eternal life in God.
Let's now listen to the first extract of archives. John Meyendorff introduces the subject of marriage, considering it in relation to the current society and the moral crisis that we are going through.
"The world and the society we live in are going through a very deep crisis in the whole area of ​​sexuality and family. Is it legitimate to say that our society today has lost all sense of morality, and to take things tragically? It is legitimate to try to know if in the old days, people were more moral than today. We can say undoubtedly that the principles which used to guide our society in this domain are no longer accepted. Therefore, from this point of view, there is a definitely a crisis. In my opinion, what is most important from the point of view of the Church, is to maintain a perspective and a vision of human nature, a positive vision which is that of Scripture, that of the Church Fathers, that of the Christian tradition as a whole. And all this tells us that man is called to commune with God, that what is essential in the life of man is the ascent towards what is above him, towards God himself. The Orthodox tradition speaks of deification on the one hand, and on the other hand, by affirming that marriage is a sacrament, it declares that sexuality and relations between men and women are not only compatible with the Christian vision of man, but that they must and can be saved, transfigured, sanctified. This is the meaning of marriage as a sacrament."
Source in French:
This post is also available in: Français (French)
Notre lettre d'informations hebdomadaire gratuite
Chers lecteurs,
Vous êtes de plus en plus nombreux à lire Orthodoxie.com, et nous nous en réjouissons. Nous souhaitons qu'une grande partie des articles de notre site soit accessible à tous, gratuitement, mais l'information de qualité a un coût. Et pour cette raison, votre soutien nous est plus que nécessaire. Nous vous invitons à vous y abonner, ou bien à faire un don de soutien !